Horses can make good pets in West Virginia if they match your IifestyIe. Horses are beautiful, romantic animals that many people love. Sadly, however, horses are being neglected, abused, and abandoned at an alarming rate. The reasons a horse would need to be rescued are quite varied. Some horse owners in the Western U.S. have lost their homes and land to foreclosure, leaving nowhere for their horses to go. These horses are sometimes abandoned in the plains and deserts, where they often die of slow exposure. Droughts, rising food and fuel prices, and other economic pressures mean that some owners can no longer afford to feed and care for their horses. Other horses are purchased by inexperienced people for sentimental reasons or as gifts for children, but their owners are unprepared for the ongoing expense and involvement of caring for the horses.

    Like horses, donkeys and mules (sterile hybrids of a horse and a donkey) have their own charm and usefulness. However, these animals have also been affected by hay shortages and some have sadly become victims of abuse or neglect.

Rescue Me! - HeIpingAnimaIs in Need.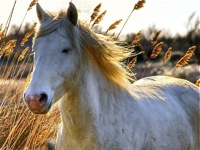 lnteresting Horse Trivia
Low-Cost West Virginia Spay & Neuter Clinics

    Horses evolved from small mammals with multiple toes. Horses were domesticated for human use as early as 4500 B.C. Horses can sleep standing up.

Related pages:

Horse Rescue

West Virginia Animal Rescue

(Sorted by Zip Code.)

Monroe County - Union, WV 24983
Monroe County Animal League 304-772-4445

Jackson County - Cottageville, WV 25239
Jackson County Animal Shelter 304-372-6064

Morgan County - Berkeley Springs 25411
Humane Society of Morgan County 304-258-5592

Jefferson County - Charles Town, West Virginia 25414
Briggs Animal Adoption Center 304-728-8330

Cabell County - Barboursville 25504
Help For Animals 800-953-7297

Cabell County - Huntington, West Virginia 25705
Tri-State Animal Clinic of Huntington 304-525-VETS

Harrison County - Shinnston 26431
Humane Society of Harrison County 304-592-1600

Hampshire County - Augusta 26704
Humane Society of Hampshire County 304-496-8855

If you find any of the above spay/neuter information is incorrect,
or if you know another low-cost clinic to recommend, please
call Rescue Me! at 1-800-800-2099 with this information.