Horses can make good pets in Michigan if they match your IifestyIe. Horses are beautiful, romantic animals that many people love. Sadly, however, horses are being neglected, abused, and abandoned at an alarming rate. The reasons a horse would need to be rescued are quite varied. Some horse owners in the Western U.S. have lost their homes and land to foreclosure, leaving nowhere for their horses to go. These horses are sometimes abandoned in the plains and deserts, where they often die of slow exposure. Droughts, rising food and fuel prices, and other economic pressures mean that some owners can no longer afford to feed and care for their horses. Other horses are purchased by inexperienced people for sentimental reasons or as gifts for children, but their owners are unprepared for the ongoing expense and involvement of caring for the horses.

    Like horses, donkeys and mules (sterile hybrids of a horse and a donkey) have their own charm and usefulness. However, these animals have also been affected by hay shortages and some have sadly become victims of abuse or neglect.

Rescue Me! - HeIpingAnimaIs in Need.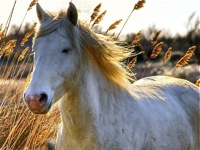 lnteresting Horse Trivia
Low-Cost Michigan Spay & Neuter Clinics

    Horses evolved from small mammals with multiple toes. Horses were domesticated for human use as early as 4500 B.C. Horses can sleep standing up.

Related pages:

Horse Rescue

Michigan Animal Rescue

(Sorted by Zip Code.)

St Clair County - Clyde, Michigan 48049
St. Clair County Humane Society 810-987-4357

Oakland County - Troy, MI 48098
Long Lake Animal Hospital 248-689-8899

Washtenaw County - Ann Arbor, Michigan 48105
Humane Society of Huron Valley 734-662-4365

Washtenaw County - Ann Arbor 48113
The Zimmer Foundation 734-663-8000

Monroe County - Ida, Michigan 48140
Alliance for Spay-Neuter and Pet Rescue 734-243-1800

Wayne County - Lincoln Park 48146
Friends of Lincoln Park Animals 313-381-9020

Tuscola County - Caro 48723
Humane Society of Tuscola County 989-672-PETS

Iosco County - Tawas City 48763
Iosco County Animal Shelter 989-362-3170

Ingham County - Lansing, MI 48906
Capital Area Humane Society 517-626-6060

Kalamazoo County - Kalamazoo 49008
Kalamazoo Humane Society 269-345-1181

Kalamazoo County - Oshtemo 49077
Animal's Best Friend Fund 269-624-1090

Muskegon County - Muskegon, MI 49442
West Michigan SPCA 231-788-5933

Kent County - Kentwood, MI 49508
C-SNIP 616-455-8220

Kent County - Grand Rapids 49534
Humane Society of Kent County 616-453-8900

Charlevoix County - Boyne City 49712
Charlevoix County Humane Society 231-582-6774

If you find any of the above spay/neuter information is incorrect,
or if you know another low-cost clinic to recommend, please
call Rescue Me! at 1-800-800-2099 with this information.