Horses can make good pets in Kentucky if they match your IifestyIe. Horses are beautiful, romantic animals that many people love. Sadly, however, horses are being neglected, abused, and abandoned at an alarming rate. The reasons a horse would need to be rescued are quite varied. Some horse owners in the Western U.S. have lost their homes and land to foreclosure, leaving nowhere for their horses to go. These horses are sometimes abandoned in the plains and deserts, where they often die of slow exposure. Droughts, rising food and fuel prices, and other economic pressures mean that some owners can no longer afford to feed and care for their horses. Other horses are purchased by inexperienced people for sentimental reasons or as gifts for children, but their owners are unprepared for the ongoing expense and involvement of caring for the horses.

    Like horses, donkeys and mules (sterile hybrids of a horse and a donkey) have their own charm and usefulness. However, these animals have also been affected by hay shortages and some have sadly become victims of abuse or neglect.

Rescue Me! - HeIpingAnimaIs in Need.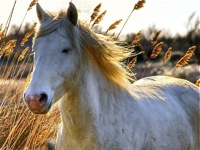 lnteresting Horse Trivia
Low-Cost Kentucky Spay & Neuter Clinics

(Sorted by Zip Code.)

Nelson County - Bardstown 40004
Humane Society of Nelson County 502-349-2082

Shelby County - Shelbyville 40065
Shelby County Humane Society 502-633-4033

Hardin County - Vine Grove, Kentucky 40175
Animal Refuge Center 270-877-6064

Jefferson County - Louisville, Kentucky 40205
Alley Cat Advocates 502-634-8777

Jefferson County - Louisville, Kentucky 40214
Kentucky Humane Society 502-366-3355

Scott County - Georgetown, KY 40324
Scott County Humane Society 502-863-3279

Anderson County - Lawrenceburg, Kentucky 40342
Holly's Place 502-859-5342

Mercer County - Salvisa, Kentucky 40372
Home at Last 502-839-1974

Woodford County - Versailles, Kentucky 40383
Woodford Humane Society 859-873-5491

Madison County - Richmond 40476
Humane Society of Madison County 859-626-5600

Fayette County - Lexington 40503
Woodstock Animal Foundation 859-277-SPAY

Feyette County - Lexington 40504
Lexington Humane Society 859-233-0044

Kenton County - Erlanger 41018
Humane Society of Northern Kentucky 859-342-HSKY

Fulton County - Fulton 42041
Ken-Tenn Humane Society 731-235-9603

Warren County - Bowling Green 42102
Bowling Green Warren County Humane 270-783-9404

If you find any of the above spay/neuter information is incorrect,
or if you know another low-cost clinic to recommend, please
call Rescue Me! at 1-800-800-2099 with this information.